Epic Movie Review
by Catiana Nak Kheiyn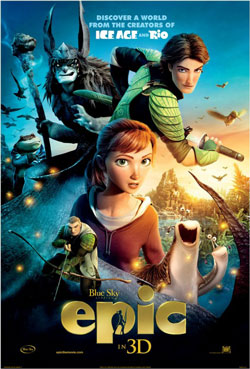 Overview: Epic is a stunningly beautiful, CG fantasy-adventure film produced in 2013 by Blue Sky Studios. Harrowing chases through the trees, amusing dialogue, and great story pacing make this a wonderful movie for kids ages 8 and up.
While Epic received some unfavorable reviews from professional film critics, kids across the board seem to enjoy the exciting escapades of the movie's cast. Heavier elements such as death and loss could have been explored further, but kids don't necessarily need that depth—they want a fun adventure! And even if adults don't find the storyline profoundly moving, the gorgeous animation is enough to keep at least this mom enthralled.
Content: Epic has been rated PG for mild action; some scary images involving the malevolence of the film's antagonist, Mandrake; and brief rude language from a pair of comic relief mollusks. Mub, a slug, is a bit of a flirt, but his efforts amount to nothing. A kind of natural magic is used, but in a generalized fantasy manner; no deities are referenced. The two relationships that could be considered "romantic" are innocently done and result in nothing more than a single kiss at the end of the movie.
Story: Epic opens with M.K. sitting in a taxi, on her way to live at the home of her estranged, eccentric father after her mother's death. She quickly finds that he is still obsessed with his life's work: tracking and finding evidence of an advanced society of tiny people living in the forest surrounding his house. It is a feat which M.K. resents because it has come between her dad and his family.
But when M.K. ventures into the woods, she makes a discovery that proves her father was not as crazy as she thought. She stumbles upon the very spot where Tara, the diminutive queen of the forest, lays dying on the ground from an arrow wound. As her final act, Tara transfers the "life of the forest" into a flower bud and, after shrinking M.K. to a height of two inches, entrusts it to her for safekeeping.
The Leaf Men, soldiers of the forest, arrive on the scene, and M.K. is swept into a mission to protect the bud until it can bloom in the light of the full moon that night. Complicating matters is Mandrake, the leader of the malicious Boggans, who wishes to take the bud for himself and use it to destroy the forest. Thus begins a pivotal battle between life and decay that is the overarching theme of Epic.
Conversation Starters: Epic is a whimsical springboard for beneficial family conversations. In fact, every movie has that potential if we remain vigilant for opportunities. One of the questions asked near the end of the film is, "Who gives up everything for a world that's not even theirs?" How could this be used to relate the story of Christ to our kids? Here are a few more conversation ideas that can be drawn from Epic:
God is Real - When M.K.'s father is trying to explain his theories about the society he believes exists in the forest, he makes a fantastically true statement: "Just because you can't see something, doesn't mean it's not there." The reality of an invisible God is a sometimes a daily struggle for the follower of Christ. John 20:29 shows Jesus saying, "Blessed are those who have not seen and yet have believed." Hey, kids, that's us!
The Importance of the Bible - Nim Galuu, a wizard-of-Oz-esque glowworm and keeper of magic scrolls, teaches M.K. that we can gain knowledge for today by looking at the past. The Bible is like our "scrolls" which grant wisdom about God through the history of His people, the story of Jesus' life, and letters of instruction for believers.
Little Parts of God's Bigger Plan - Ronin, the warrior leader of the Leaf Men, often drives home the phrase "many leaves, one tree," indicating that each individual is connected to something bigger and greater. Some may interpret this theme with a lens of mysticism, however, the Christian parent could easily use this concept to talk to their kids about how God connects our little lives to achieve His grander purposes.
Nothing to Prove - Adult or child, we often feel we must prove ourselves worthy before we can be accepted, yet all we really want is to be accepted for who we are. This is one of the recurring themes in Epic:
• M.K.'s father tries to prove that everything he believes is real and not a delusion.
• Nod, a rookie Leaf Man, tries to prove that he is independent and doesn't need anybody.
• Dagda, the Boggan general, tries to prove he is a good son.
• Grub, a snail, tries to prove that he can be a Leaf Man.
All of these characters come to find out that proving themselves was either unnecessary or only made life more difficult and complicated in the end. In the same way, we do not need to "prove" anything to God to be accepted by Him. Romans 3:10 says that nobody is perfect, yet Jesus will save us even while we are sinners (Romans 5:8). Such a great lesson for kids who are just trying to figure out who they really are.
Dangling Thoughts: I am personally a huge fan of exquisite animation, stories that collide our world with fantasy, and good, old-fashioned adventures. Epic may not be an earth-shattering, life-changing film, but it is a fun story that a parent can enjoy alongside his or her kids and use as a platform for conversations about topics much deeper than the questing antics of 2-inch tall people, a snail, and a slug.
---
Catiana Nak Kheiyn is the webmaster and editor of 412teens.org and regularly teaches other young writers through tutoring and workshops. When she is not writing or hanging out with teens, she loves spending time with her family—a mountain man, two adorable children, and three socially awkward cats. She approaches parenting as an everyday adventure, albeit an often bewildering one, as the little ones in her life are in a constant state of flux.
---